Zipper Stash
This cleverly concealed container attaches to your zipper to look like and function as a zipper-pull. Inside is a slide-out compartment measuring 2″ x .35″ x .35″, providing a low-profile storage space for any small items that you'd like to always have handy.

Its all-black textured matte exterior provides a low noise/low glare product, ideal for blending in as a "hidden-in-plain-sight" device.  It attaches to your zipper (or other attachment point) in just seconds. It utilizes Kevlar cord encased in a black HDPE extruded cover for a durable UV-resistant finish.

Overall length (excluding cord): 2.75″. Weight: 0.3 oz.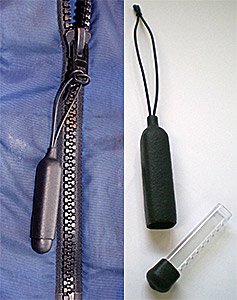 Warning
User assumes all risk and liability resulting from use of this product.
Neither seller nor manufacturer shall be liable to the buyer or any third person for any injury, loss or damage directly or indirectly resulting from use of, or inability to use, this product.