Zipper Fire
With the Zipper Fire, a fire starting tool can always be as close as your zipper. Just attach it to the zipper on your jacket or backpack, and it will be ready and available whenever and wherever needed.

The Zipper Fire looks like and functions as a zipper-pull. It has a slide-out compartment which contains a 2″ ferrocerium rod and a razor blade striker. It has an all-black textured matte exterior and utilizes Kevlar cord encased in a black HDPE extruded cover for a durable UV-resistant finish.

Overall length (excluding cord): 2.75″. Container size: 2″ x .35″ x .35″. Weight: 0.5 oz.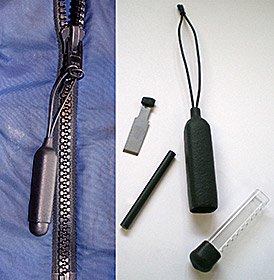 Warning
User assumes all risk and liability resulting from use of this product.
Neither seller nor manufacturer shall be liable to the buyer or any third person for any injury, loss or damage directly or indirectly resulting from use of, or inability to use, this product.