WD-40 Covert Safe
The Chicago Crime Commission states that a burglar spends an average of 8 minutes in the victim's home. Put the odds in your favor...hide your valuables in plain sight.

The diversion safes are a unique home-security product. Valuables can be discreetly stored inside these look-a-like containers and kept in their seemingly rightful places. This WD-40 won't stop a squeaky door, but it will stop a thief from finding your most cherished treasures.

Safely stash away anything you choose by twisting open the top of the can to reveal the secret compartment. These cans are indistinguishable from the genuine product and even weighted to feel full.
(Shown below in open and closed positions)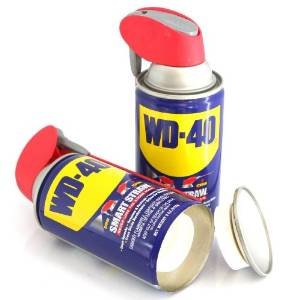 WARNING
User assumes all risk and liability resulting from use of this product.
Neither seller nor manufacturer shall be liable to the buyer or any third person for any injury, loss or damage directly or indirectly resulting from use of, or inability to use, this product.