Visible Stain Thief Detection Powder
Depending upon your particular situation, visible stain detection may be preferable to ultraviolet detection in some cases. Visible stain thief detection powder is used to trap thieves by applying to objects likely to be stolen.

After the protected item comes in contact with the skin, the body's amino acids react with the powder, creating a highly visible purple stain which can last up to several days.

Note: The stains may discolor the marked object.

Non-toxic. Made in U.S.A.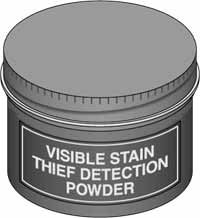 WARNING
User assumes all risk and liability resulting from use of this product.
Neither seller nor manufacturer shall be liable to the buyer or any third person for any injury, loss or damage directly or indirectly resulting from use of, or inability to use, this product.