Titanium Lock Pick Set
This unique set of lock-picks is made from titanium, providing ultra-lightweight picks with a long life of rust/corrosion-free use. Mil-spec design for the adventurous operative. This set is comprised of a feeler pick, a diamond pick, a ball pick, a hybrid diamond/feeler pick, a combo rake/tension tool, and a modified diamond/tension tool.

All of these tools are contained in a secure compact pocket case.

Weight w/case: 0.4 ounces. Case size: .4″ x .9″ x 3.3″.

Made in USA.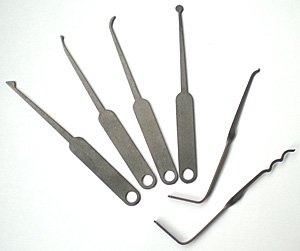 WARNING
User assumes all risk and liability resulting from use of this product.
Neither seller nor manufacturer shall be liable to the buyer or any third person for any injury, loss or damage directly or indirectly resulting from use of, or inability to use, this product.

Legal Status of Products

It is the responsibility of the
B
uyer to ascertain and comply with all applicable local, state, and federal laws and regulations regarding possession and use of any item on this website.
B
y placing an order, the
B
uyer represents that he/she is of legal age and that the products will be used only in a legal and lawful manner.