Titanium Escape Ring
The Titanium Escape Ring adds another tool to the operator's Escape and Evasion options for escaping captivity. It's a simple, but elegant-looking ring made of titanium, cut from solid barstock and polished to a mirror finish. But unlike all other rings, this one contains a saw and handcuff shim pick combination tool which is completely hidden from view when worn (Micro Escape Tool).
Located on a finger, its always in the exact area needed to quickly access and deploy, even when handcuffed. The shim can be used to open single-locked handcuffs, while the saw can cut zip-ties, disposable handcuffs, duct tape, rope, and other non-metallic materials.

This stainless steel tool is  2″ x 1/8″ x 1/64″, and its unusual flexibility allows it to curve around and be seated in the ring's interior. The Micro Escape Tool (listed on this site) is the replacement tool for this item. You can order a spare or replacement any time, or get an extra one when placing this order today.

Available in six ring sizes: 9, 10, 11, 12, 13, 14
(you may need to order one size larger than your normal ring size)
Made in USA.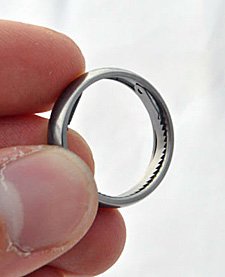 WARNING
User assumes all risk and liability resulting from use of this product.
Neither seller nor manufacturer shall be liable to the buyer or any third person for any injury, loss or damage directly or indirectly resulting from use of, or inability to use, this product.

Legal Status of Products

It is the responsibility of the
B
uyer to ascertain and comply with all applicable local, state, and federal laws and regulations regarding possession and use of any item on this website.
B
y placing an order, the
B
uyer represents that he/she is of legal age and that the products will be used only in a legal and lawful manner.