Survival Kit Water Bags
Sometimes being a spy means laying low and surviving in all kinds of harsh conditions.
These bags pack flat until filled, making them a perfect item to be kept in your survival kit or bail-out bag. With its gusseted construction, each can hold 1.5 pints of water.

These re-closeable bags are made from a food-grade 5.4 mil thickness laminate of nylon and LLDPE for a durable, lightweight container. The large opening makes collecting water easy, even from shallow pools.
Lanyard hole for versatile filling and carrying options. Great for all sorts of items requiring waterproof storage.
Size (flat): 5.9″ x 9.5″. Gusset size: 3.2″. Weight: 0.4 oz. each. Sold in packs of 4 bags.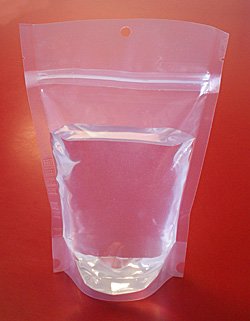 Warning
User assumes all risk and liability resulting from use of this product.
Neither seller nor manufacturer shall be liable to the buyer or any third person for any injury, loss or damage directly or indirectly resulting from use of, or inability to use, this product.