Survival Cord
This new cord has a breaking strength of 450 lbs while having a diameter of just 0.08 inches.

The secret of achieving these specs is in the material. This cord is made from woven Technora®, a very high strength, low stretch, abrasion-resistant material. Additionally, it's coated with PTFE which provides both increased abrasion resistance and UV inhibition.

This unique cord was originally developed for a US government agency to tether some sort of top secret airborne surveillance system.

It is the strongest cord in the smallest package that will hold knots. A must-have for any survival kit.
Length: 50 ft. Weight: 0.8 oz. Color: dark green.

Made in USA.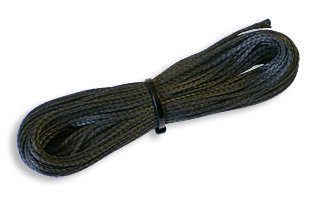 Warning
User assumes all risk and liability resulting from use of this product.
Neither seller nor manufacturer shall be liable to the buyer or any third person for any injury, loss or damage directly or indirectly resulting from use of, or inability to use, this product.