Shoe Lace Handcuff Key- 50 Count (Bulk)
50 COUNT
($10.00 each vs $19.95 each when purchased separately)
This covert handcuff key was developed for an elite U.S. unit whose members are at high risk of being taken captive and require improved odds of escape.
It was designed to have a near zero likelihood of detection, yet still have the capability to be rapidly accessed when required.
This was achieved by engineering a unique covert hide-out key which is located seemingly far out-of-reach of a handcuffed captive.

Discreetly attached to the tip of your bootlace (with a sheath over it), this handcuff key does not seem to be within any useful proximity while handcuffed behind your back. But just bend your knee up sharply and it puts it right into your hands!
This works whether standing, sitting, or prone. Grasp the device, and then return your foot to its original position; as your foot descends the lace unties, leaving you with a tethered handcuff key in your hand.
Fits on all standard boot laces (not included). A black rubber cover is included to protect and further conceal the key.
Installs easily using just a regular pair of pliers (directions included). Constructed of blackened brass.
Length: 3/4″. Weight: 0.017 oz. Patent pending. Made in USA.
50 COUNT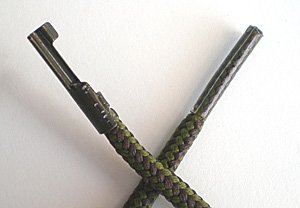 WARNING
User assumes all risk and liability resulting from use of this product.
Neither seller nor manufacturer shall be liable to the buyer or any third person for any injury, loss or damage directly or indirectly resulting from use of, or inability to use, this product.

Legal Status of Products

It is the responsibility of the
B
uyer to ascertain and comply with all applicable local, state, and federal laws and regulations regarding possession and use of any item on this website.
B
y placing an order, the
B
uyer represents that he/she is of legal age and that the products will be used only in a legal and lawful manner.