Special Ingredients- Shitzlinger Action Pack
The latest addition to the popular Special Ingredients line, the Shitzlinger Action Pack is an easy-to-use instant deployment system that can remotely mark an object or person with a high-visibility purple stain, or with a diarrhea stench and visual.
It provides special launch-able formulations of Doo Drops and Purple Rain, enabling discreet applications from up to 20 feet away from the target. Applications range from a surveillance tracking marker to revenge tool. The kit contains 4 pre-filled projector devices – two with "diarrhea", one with purple stain, and a water-filled training unit for target practice.

Warning: will cause staining. Use only with extreme caution and discretion.

Made in USA.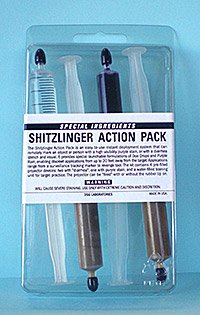 Warning
User assumes all risk and liability resulting from use of this product.
Neither seller nor manufacturer shall be liable to the buyer or any third person for any injury, loss or damage directly or indirectly resulting from use of, or inability to use, this product.
Legal Status of Products
It is the responsibility of the
B
uyer to ascertain and comply with all applicable local, state, and federal laws and regulations regarding possession and use of any item on this website.
B
y placing an order, the
B
uyer represents that he/she is of legal age and that the products will be used only in a legal and lawful manner.