Sap Cap
The baseball cap is so common that no one ever gives it a second thought.  Well think again.

The Sap Cap is a low-profile covert weapon that won't ever get a second look.  It's your standard type baseball cap, but with the added ability to be used like a blackjack or sap. Just use the bill as the handle and then use the cap as an impact weapon.  The secret of this original Sap Cap is in its special discreet pocket. 

Contained in the multi-layered pocket are encapsulated and buffered unique proprietary metallic micro-spheres that are 110% the density of lead.  And unlike lead, it is non-toxic and won't rust. Don't confuse the cheap imported knock-offs that use lead! 
Color: black. One size fits most.  Pocket and contents are made in USA, hat is imported.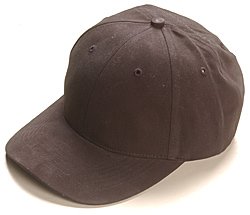 Warning
User assumes all risk and liability resulting from use of this product.
Neither seller nor manufacturer shall be liable to the buyer or any third person for any injury, loss or damage directly or indirectly resulting from use of, or inability to use, this product.
Legal Status of Products
It is the responsibility of the
B
uyer to ascertain and comply with all applicable local, state, and federal laws and regulations regarding possession and use of any item on this website.
B
y placing an order, the
B
uyer represents that he/she is of legal age and that the products will be used only in a legal and lawful manner.