Q's Hollow Spy Coins (Available in several coins)
<!--[if gte mso 9]><xml> <w:WordDocument> <w:View>Normal</w:View> <w:Zoom>0</w:Zoom> <w:Compatibility> <w:BreakWrappedTables></w:BreakWrappedTables> <w:SnapToGridInCell></w:SnapToGridInCell> <w:WrapTextWithPunct></w:WrapTextWithPunct> <w:UseAsianBreakRules></w:UseAsianBreakRules> </w:Compatibility> <w:BrowserLevel>MicrosoftInternetExplorer4</w:BrowserLevel> </w:WordDocument> </xml><![endif]--><!--[if gte mso 10]> <style> /* Style Definitions */ table.MsoNormalTable {mso-style-name:"Table Normal"; mso-tstyle-rowband-size:0; mso-tstyle-colband-size:0; mso-style-noshow:yes; mso-style-parent:""; mso-padding-alt:0in 5.4pt 0in 5.4pt; mso-para-margin:0in; mso-para-margin-bottom:.0001pt; mso-pagination:widow-orphan; font-size:10.0pt; font-family:"Times New Roman";} </style> <![endif]-->
This covert Coin is expertly hand-machined from actual circulation coins to create a secret interior compartment. Once closed, they are absolutely indistinguishable from regular coins to the naked eye. They can be handled normally without any chance of an accidental opening.

An opening device is supplied with each covert coin, without which it's next to impossible to open up the coin. A hollow compartment is created inside the coin that can be used to hide a micro SD card, a small note, etc.
Spies in the 1950s used similar covert coins to trade secrets stored on micro film.
Available in multiple coins and from multiple currencies)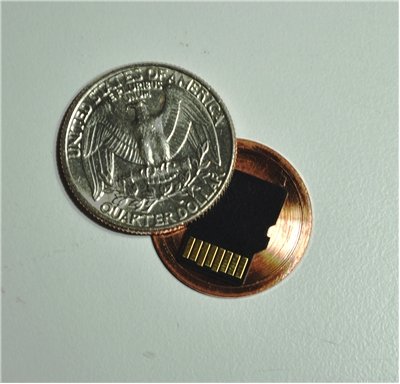 WARNING
User assumes all risk and liability resulting from use of this product.
Neither seller nor manufacturer shall be liable to the buyer or any third person for any injury, loss or damage directly or indirectly resulting from use of, or inability to use, this product.