Pyro Band
The Pyro-Band is a safe, convenient and covert way to always have the means to create fire. Worn as a wristband, the integral ferrocerium rod is not only the fire source, but also serves as the band's clasp/connector. Rapidly scraping the rod with a sharp edge, such as a knife blade, will send out a shower of sparks that can ignite appropriate tinder to light a fire.

A great way to always have a basic piece of survival gear close at hand. Includes a separate emergency striker blade. The wristband can be cut down to fit any wrist size. Color: black. Ferrocerium rod size: 3/16″ x approx. 1″. Weight: 0.5 oz.

Made in USA. Patent pending.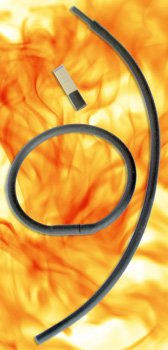 WARNING
User assumes all risk and liability resulting from use of this product.
Neither seller nor manufacturer shall be liable to the buyer or any third person for any injury, loss or damage directly or indirectly resulting from use of, or inability to use, this product.
Legal Status of Products

It is the responsibility of the
B
uyer to ascertain and comply with all applicable local, state, and federal laws and regulations regarding possession and use of any item on this website.
B
y placing an order, the
B
uyer represents that he/she is of legal age and that the products will be used only in a legal and lawful manner.