Pick Gun- 10 Count (Bulk)
10 COUNT
($30.00 each vs $39.95 each when purchased separately)
The Pick Gun was designed for law enforcement agencies to quickly pick pin tumbler locks. Unlike conventional hand picks that activate only one or two cylinder pins at a time, this tool is designed to span all the pins at once.

The needle, powered by trigger action, strikes all the cylinder bottom pins simultaneously. As the force is transferred to the upper pins, they momentarily rise in the chambers and create a wide gaping shear line. At precisely that moment, with pressure applied on the tension wrench, the plug turns to the opening position!

Various amounts of pin striking action is achieved by merely adjusting the knob.

Comes complete with 3 steel needles and tension wrench.
(Brand Name May Vary)
10 COUNT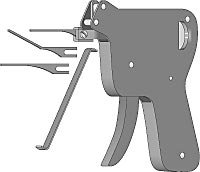 WARNING
User assumes all risk and liability resulting from use of this product.
Neither seller nor manufacturer shall be liable to the buyer or any third person for any injury, loss or damage directly or indirectly resulting from use of, or inability to use, this product.

Legal Status of Products

It is the responsibility of the
B
uyer to ascertain and comply with all applicable local, state, and federal laws and regulations regarding possession and use of any item on this website.
B
y placing an order, the
B
uyer represents that he/she is of legal age and that the products will be used only in a legal and lawful manner.