Nickel Knife
The blade of this innovative new covert escape tool is discreetly concealed inside of a nickel! Its small but effective hardened stainless steel blade can cut plastic zip-ties, cord, duct tape, etc., increasing the odds of escaping unlawful captivity. It's a potentially lifesaving tool for undercover operatives and even civilians traveling in hostile regions.

This unique micro tool was engineered to be both clandestine and pre-positioned for deployment. The most ignored things that people carry are coins; rarely does anyone pay the slightest attention to a bunch of coins, even during searches. Keep this along with some other coins in your pant's back pocket, and it can be accessed even with your hands bound behind your back. To deploy the blade, run your fingernail along the nickel's side clockwise with the "heads" side up, and the blade pivots out ready for use. The coin provides a solid grip handle. Weight: 0.18 oz. Made in USA.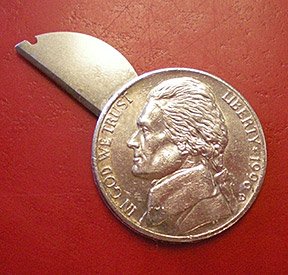 WARNING
User assumes all risk and liability resulting from use of this product.
Neither seller nor manufacturer shall be liable to the buyer or any third person for any injury, loss or damage directly or indirectly resulting from use of, or inability to use, this product.
Legal Status of Products

It is the responsibility of the
B
uyer to ascertain and comply with all applicable local, state, and federal laws and regulations regarding possession and use of any item on this website.
B
y placing an order, the
B
uyer represents that he/she is of legal age and that the products will be used only in a legal and lawful manner.