James Bond Credit Card Lock Pick
<!--[if gte mso 9]><xml> <w:WordDocument> <w:View>Normal</w:View> <w:Zoom>0</w:Zoom> <w:Compatibility> <w:BreakWrappedTables></w:BreakWrappedTables> <w:SnapToGridInCell></w:SnapToGridInCell> <w:WrapTextWithPunct></w:WrapTextWithPunct> <w:UseAsianBreakRules></w:UseAsianBreakRules> </w:Compatibility> <w:BrowserLevel>MicrosoftInternetExplorer4</w:BrowserLevel> </w:WordDocument> </xml><![endif]--><!--[if !mso]><object classid="clsid:38481807-CA0E-42D2-BF39-B33AF135CC4D" id=ieooui></object> <style> st1\:*{behavior:url(#ieooui) } </style> <![endif]--><!--[if gte mso 10]> <style> /* Style Definitions */ table.MsoNormalTable {mso-style-name:"Table Normal"; mso-tstyle-rowband-size:0; mso-tstyle-colband-size:0; mso-style-noshow:yes; mso-style-parent:""; mso-padding-alt:0in 5.4pt 0in 5.4pt; mso-para-margin:0in; mso-para-margin-bottom:.0001pt; mso-pagination:widow-orphan; font-size:10.0pt; font-family:"Times New Roman";} </style> <![endif]-->
This is a credit card size lock pick set. Like something straight out of a James Bond movie; an actual lock pick set concealed inside of a credit card style housing.
The back portion of the card slides off to reveal 4 individual picks and a double-sided tension tool. The card set is less than 1/8 inch thick and fits into the same wallet space as a credit card! The picks are top quality, solid stamped stainless steel.
The Ultimate Spy Gadget for the man or woman who has everything.
Be 007 For 2017!!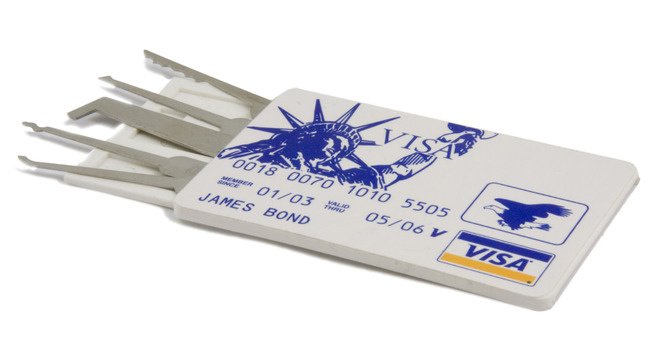 WARNING
User assumes all risk and liability resulting from use of this product.
Neither seller nor manufacturer shall be liable to the buyer or any third person for any injury, loss or damage directly or indirectly resulting from use of, or inability to use, this product.

Legal Status of Products

It is the responsibility of the
B
uyer to ascertain and comply with all applicable local, state, and federal laws and regulations regarding possession and use of any item on this website.
B
y placing an order, the
B
uyer represents that he/she is of legal age and that the products will be used only in a legal and lawful manner.