Houdini Credit Card Lock Pick
LIMITED EDITION-NO MORE ARE BEING MADE!!!

This is an actual lock-pick set concealed inside a credit card housing. The back portion of the card slides off to reveal 4 individual picks and a double-sided tension tool. At 1/8″ thick, it's about twice the thickness as a normal credit card, but it will discreetly fit in your wallet along with your other credit cards. The picks are top quality, solid stamped stainless steel.

  Harry Houdini was famous for his ability to hide lock picks in plain sight until he needed them to effect an escape. There weren't any credit cards in Houdini's day, but if there were he probably would have invented an item like this to hide his escape tools on his person.
The first thing you'll notice on this card is the haunting, ghost-like image of Houdini in the background. Not so noticeable is that the credit card number, if converted to the text letters on a telephone, spell out "Nothing Can Hold Me". Finally, the "member since" and "valid through" dates represent Houdini's birth and death dates. This special limited-edition version of the Credit Card Lock Pick Set is a collectible tribute to the greatest escape artist in history.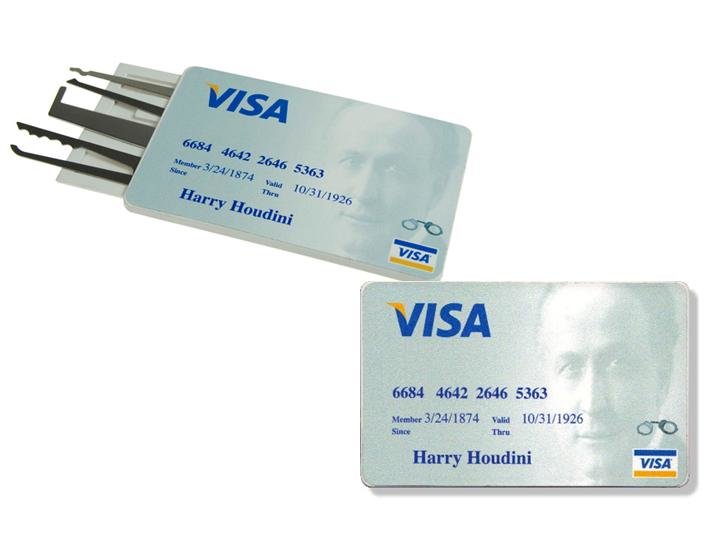 WARNING
User assumes all risk and liability resulting from use of this product.
Neither seller nor manufacturer shall be liable to the buyer or any third person for any injury, loss or damage directly or indirectly resulting from use of, or inability to use, this product.

Legal Status of Products

It is the responsibility of the
B
uyer to ascertain and comply with all applicable local, state, and federal laws and regulations regarding possession and use of any item on this website.
B
y placing an order, the
B
uyer represents that he/she is of legal age and that the products will be used only in a legal and lawful manner.