Handcuff Key Bracelet- 50 Count (Bulk)
50 COUNT
($7.00 each vs $14.95 each when purchased separately)
A leading federal law enforcement agency asked someone to invent a special emergency handcuff key for their undercover operatives. The Undercover Bracelet is the result.

This unique handcuff key is designed to always be situated at the optimum location for access and deployment – right next to the wrist. Disguised as a common "gummy bracelet", this rubbery flexible bracelet won't draw even a second glance when worn in most environments. This device is completely non-metallic, even the key portion.

The key, which is permanently affixed to one end of the bracelet, serves as the connector joining the two ends. The key is not visible when the bracelet is worn. It is quickly accessed by just yanking on the bracelet, exposing the key.  Available in 3 matte colors: black, red, and blue. The key color matches the bracelet color. The bracelet accommodates wrists up to 10″, and can be cut down to fit.
Weight: 0.2 oz. U.S. Patent Number 8,667,822. Made in USA.
50 COUNT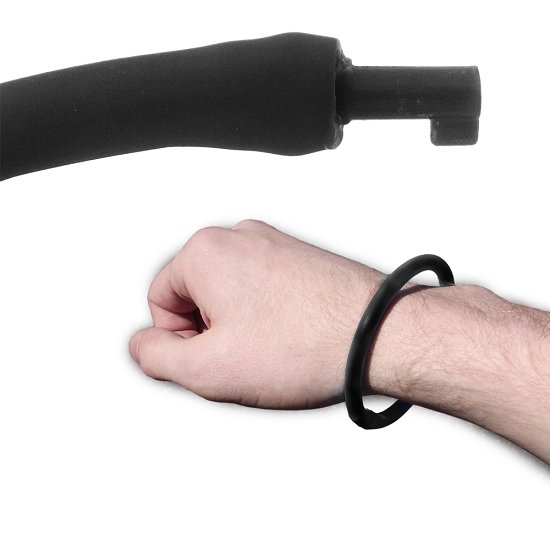 WARNING
User assumes all risk and liability resulting from use of this product.
Neither seller nor manufacturer shall be liable to the buyer or any third person for any injury, loss or damage directly or indirectly resulting from use of, or inability to use, this product.

Legal Status of Products

It is the responsibility of the
B
uyer to ascertain and comply with all applicable local, state, and federal laws and regulations regarding possession and use of any item on this website.
B
y placing an order, the
B
uyer represents that he/she is of legal age and that the products will be used only in a legal and lawful manner.