Foto Sniper Camera
This is the legendary Foto-Sniper Camera, originally developed for Soviet KGB surveillance operatives. It's a unique configuration of a 35mm camera with a powerful 300mm telephoto lens and an ingenious integrated stabilization system. In lieu of needing to use a cumbersome tripod or other stabilization device, the Foto-Sniper's camera and telephoto lens are mounted on its special metal alloy rifle-type stock, which has an integrated trigger-activated shutter release and focusing mechanism.

The stock is held firmly against the shoulder, the camera is aimed as a rifle or shotgun would be, and the trigger is pulled to take the photograph. Focusing is achieved by using a control knob located on the stock. No tripod, no set-up time, no adjusting for height… Sighting, focusing, and shooting all become natural, integrated movements. It's an extremely effective, yet simple, way to track and photograph a moving subject. In addition to surveillance applications, it's also ideal for photographing sporting events, wildlife photography, etc.

The Foto-Sniper's through-the-lens semi-automatic exposure meter and LED indicators in the viewfinder provide for optimum exposure settings, and an instant mirror-return enables continuous viewing of a subject before and after exposure. Its split-image focusing allows for excellent image sharpness under varying conditions, and its multi-coated achromatic lens provides for optimum light transmission and exceptional photographic imagery.

Shutter speeds range from 1/30 second to 1/500 second. Uses standard 35mm film. Manufactured in Russia by Zenit. This is a complete system, which includes the 35mm camera and 300mm f/4.5 telephoto lens, detachable shoulder stock/pistol grip device, assorted optical glass filters, filter adapters, neck strap, rubber eye cup and hood, tools, manual, and fitted carry case.

Very limited quantity available.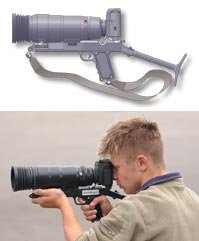 WARNING
User assumes all risk and liability resulting from use of this product.
Neither seller nor manufacturer shall be liable to the buyer or any third person for any injury, loss or damage directly or indirectly resulting from use of, or inability to use, this product.

Legal Status of Products

It is the responsibility of the
B
uyer to ascertain and comply with all applicable local, state, and federal laws and regulations regarding possession and use of any item on this website.
B
y placing an order, the
B
uyer represents that he/she is of legal age and that the products will be used only in a legal and lawful manner.