Escape / Travel Utility Belt
Escape/Travel Belt, both the operative and the regular traveler just gained a lot of options. Whether you travel in the world's most hostile regions or just pursue your daily activities, you can now increase your survival odds if your situation suddenly turns south.

This innovative new belt is designed to be discreet and look ordinary. It's made of 1.5″ webbing, so it doesn't look too tactical or military and will fit through standard size belt loops. But its ordinary looks conceal some very un-ordinary features.

The Escape/Travel Belt's unique buckle conceals and securely holds a non-metallic Handcuff Key and a Ceramic Razor Blade (both are included). The versatile design of the belt's interior provides dozens of access points to its many discreet elasticized compartments, which are ideal for stashing currency or whatever small items you require.

The belt even comes with some pre-deployed tools included in compartments in the rear of the belt: a second non-metallic handcuff key (with a lanyard for easy removal) and 4.5 feet of Kevlar® Survival Cord.

The entire belt – even with all of the included tools – is completely non-metallic. Available in 3 sizes: Medium (28″ – 32″), Large (34″ – 42″), XL (44″ – 52″). Color: black. Made in USA.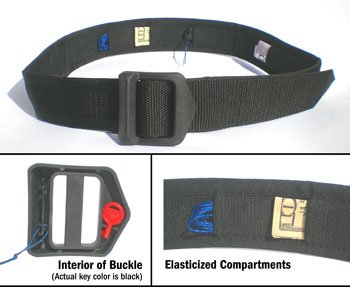 WARNING
User assumes all risk and liability resulting from use of this product.
Neither seller nor manufacturer shall be liable to the buyer or any third person for any injury, loss or damage directly or indirectly resulting from use of, or inability to use, this product.

Legal Status of Products

It is the responsibility of the
B
uyer to ascertain and comply with all applicable local, state, and federal laws and regulations regarding possession and use of any item on this website.
B
y placing an order, the
B
uyer represents that he/she is of legal age and that the products will be used only in a legal and lawful manner.