Escape Saw
The Escape Saw can be a vital piece of gear that should be in every adventurer's survival kit. This small, discreet, and lightweight cutter could be just the tool you need to extract yourself from an undesirable situation. It can cut metal, wood, plastic, rope, etc. It cuts on the pull stroke.

Saw length: 2.25″. Closed size: 3.25″ x 0.625″ x 0.375″. Weight: 0.4 oz. Color: black.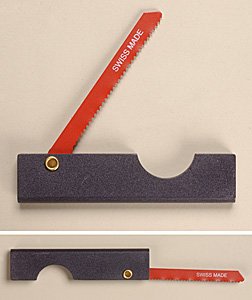 Warning
User assumes all risk and liability resulting from use of this product.
Neither seller nor manufacturer shall be liable to the buyer or any third person for any injury, loss or damage directly or indirectly resulting from use of, or inability to use, this product.