Clear Practice Handcuff- 50 Count (Bulk)
50 COUNT
($14.00 each vs $19.95 each when purchased separately)
The see-through design of this special training handcuff allows you to view what is really happening when a handcuff is being locked, unlocked, double-locked, etc.

It is a fully functional handcuff that lets the student see and understand the inner mechanical workings of a handcuff. Both the strengths and weaknesses inherent in all handcuffs become apparent.

Also a useful tool for learning unconventional handcuff opening methods, such as the shim pick (see Handcuff Shim Pick on this website). Includes standard handcuff key.
50 COUNT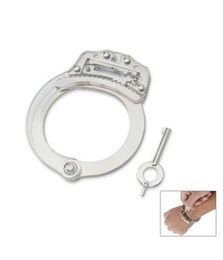 WARNING
User assumes all risk and liability resulting from use of this product.
Neither seller nor manufacturer shall be liable to the buyer or any third person for any injury, loss or damage directly or indirectly resulting from use of, or inability to use, this product.