CIA Covert Cutter
We have here the updated the classic, decades-old, C.I.A. "Letter Opener" for the new millennium. This updated version is made from GV3H, the high-tech composite from Switzerland made with 30% glass fibers. This completely non-metallic device provides superior plunging power as well as a hard edge.

The scalloped serrated edge on one side gives additional opening power on fibrous materials. The built-in clip eliminates the need for a sheath since it can clip directly to a belt, pants, sock, etc.

The contoured handle is comfortable to hold and has a thumb depression for a secure grip. There is a hole in the handle for attachment of a lanyard.

The C.I.A. Covert Cutter is completely non-metallic, non-magnetic, and non-absorbent, making this a perfect item for EOD personnel.

Total length: 7.5″. Color: non-reflective black. Made in Canada.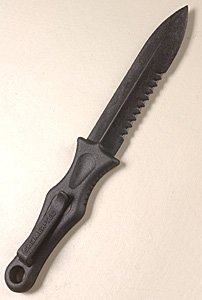 Warning
User assumes all risk and liability resulting from use of this product.
Neither seller nor manufacturer shall be liable to the buyer or any third person for any injury, loss or damage directly or indirectly resulting from use of, or inability to use, this product.
Legal Status of Products
It is the responsibility of the
B
uyer to ascertain and comply with all applicable local, state, and federal laws and regulations regarding possession and use of any item on this website.
B
y placing an order, the
B
uyer represents that he/she is of legal age and that the products will be used only in a legal and lawful manner.