CD Stash- 50 Count (Bulk)
50 COUNT
($6.00 each vs $12.95 each when purchased separately)
CD Stash
The CD Stash looks like a boxed set of 6 CDs, but it contains a secret storage compartment to secure small valuables from burglars and prying eyes.
Blends perfectly into a CD collection. It's a great way to securely hide things, especially since CDs are no longer of any interest or value to burglars. The CD Vault has a felt-lined compartment and lid.
Compartment size: 4″ x 3.75″ x 1.5″. Titles may vary.
50 COUNT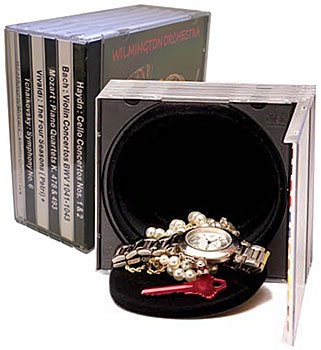 WARNING
User assumes all risk and liability resulting from use of this product.
Neither seller nor manufacturer shall be liable to the buyer or any third person for any injury, loss or damage directly or indirectly resulting from use of, or inability to use, this product.