Carbon Fiber Ventilator Pen
With what appears to be no more than a standard cheap pen in your shirt pocket, you can now have a devastating last-ditch self-defense implement that you can take most anywhere with you.

The Ventilator is constructed from ultra-stiff hollow carbon fiber tubing, and has a penetrating point that is protected and concealed by a standard pen cap with a pocket clip.

The opposite end is covered with a slightly tacky material to enhance the grip. Carbon fiber is a high-tec material which is completely non-metallic, extremely strong, rigid, and way lighter than fiberglass.

It's used in advanced aircraft, boats, sports equipment, etc. where performance is everything and cost is secondary.

Length: 6″. Weight: 0.2 oz. Color: All Black.

Made in U.S.A.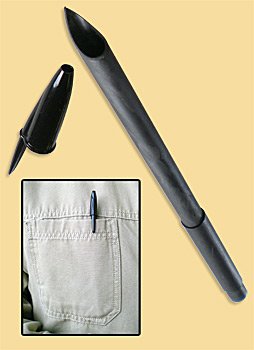 Warning
User assumes all risk and liability resulting from use of this product.
Neither seller nor manufacturer shall be liable to the buyer or any third person for any injury, loss or damage directly or indirectly resulting from use of, or inability to use, this product.
Legal Status of Products
It is the responsibility of the
B
uyer to ascertain and comply with all applicable local, state, and federal laws and regulations regarding possession and use of any item on this website.
B
y placing an order, the
B
uyer represents that he/she is of legal age and that the products will be used only in a legal and lawful manner.