Book- Lock Picking Basics
This book makes learning the art of lock picking fun and easy. You don't have to waste your time guessing how it's done, reading some amateur's theories, or trying to learn from the movies (they always get it wrong).

Now, you can get accurate information that the professionals use. Their secrets have finally been revealed. This is a great beginning guide to lock picking. Even if you already know how to pick some locks, this book covers tips and techniques that you can use. In order to successfully pick locks you must combine several skills into the art of lock picking. Each of those skills can be honed and improved with practice.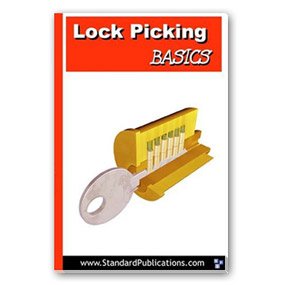 WARNING
User assumes all risk and liability resulting from use of this product.
Neither seller nor manufacturer shall be liable to the buyer or any third person for any injury, loss or damage directly or indirectly resulting from use of, or inability to use, this product.

Legal Status of Products

It is the responsibility of the
B
uyer to ascertain and comply with all applicable local, state, and federal laws and regulations regarding possession and use of any item on this website.
B
y placing an order, the
B
uyer represents that he/she is of legal age and that the products will be used only in a legal and lawful manner.