Barbasol Shaving Can Covert Safe
Safely conceal valuables and extra currency at home or while traveling with a clever Barbasol Shaving Cream Can Safe.

Shaving Cream Secret Hidden Can Safes are crafted in the USA to be an exact replica of current cans of Barbasol shaving cream. The bottom of the can twists off to reveal a hidden storage compartment where you can keep extra money, keys, jewelry or other valuables. A diversion can safe is a safe to place in plain view alongside cans of hairspray and other bath accessories in a vanity, linen closet, or medicine cabinet or suitcase.

This is really a handy personal safe for disguising valuables in the home or while traveling. It also provides peace of mind when you hire a house sitter or even a baby sitter and especially while on on extended vacation or staving off cleaning staff visits in your hotel room while you're out.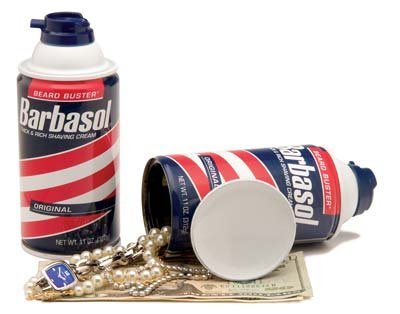 WARNING
User assumes all risk and liability resulting from use of this product.
Neither seller nor manufacturer shall be liable to the buyer or any third person for any injury, loss or damage directly or indirectly resulting from use of, or inability to use, this product.